2019: Mumps and Redemption
I wanted to continue growing in my career, but never change as a person. My essence and my roots will remain the same forever. We need to grow up, get more experienced and learn how the world works, and we might even change the way we see some things, but we must never stop being who we are. That has always been crystal clear in my head.
And I believe that, in this last year, due to being called up for the national team and coming to Everton, I learned a lot and became a better footballer. The first half of 2019 was special. Last year, after a great start at Watford, my potential dropped considerably for reasons that I mentioned earlier, but this time I continued at a good pace and did not let it drop. I finished the Premier League with 13 goals - apart from one that was taken from me, against Burnley.
Even so, my season with Everton, individually speaking, was very good. Unfortunately, we did not reach the position we wanted. We finished eighth, just three points from qualifying for the Europa League, which was our biggest goal. Despite this, we managed to give the 'Big Six' a bit of a headache. Our rival lost the title by one point, and we took points from them in the direct confrontation. We still beat Chelsea, Leicester, Arsenal and Manchester - 4-0 - when I scored one of the most beautiful goals of my career.
In the meantime, I still played two friendlies for the national team in March. I was looking forward to being called up for the Copa America squad, and so I returned to Brazil and Nova Venécia, where I spent the first couple days of my holidays.
People think we know we'll be called up before everyone else, but it's not like that. Not at all. If that was the case, I wouldn't be freaking out on that May 17th, exactly a week after my 22nd birthday. I remember that Rede Globo sent Régis Rösing to film us, and that made me even more apprehensive. What if the I'm not called up?
Everyone around me was a little anxious, but I'm sure I was the most nervous soul in that room. Professor Tite started calling up the players names and my name would never come. Due to the alphabetical order, they were following, I ended up being the last name to be called. I didn't even wait for him to say my full name and before I started celebrating. I did it as if it were a goal. Perhaps the most important goal of my career so far.
The room was full of people: my family and friends, my manager, my press officer and the reporters who came to cover that moment. And I'm glad that moment was filmed Those images ended up all around the world and the emotion I felt at that time was much more than just a player being called up for an important championship for his country. It was of a boy fulfilling a child's dream.
And so I was about to live the greatest football story of my career. Copa America is a very important tournament for our national team. Despite being the greatest world champion in the history of football, we lost titles to Uruguay and Argentina. Despite this, we had the huge responsibility to keep a tradition going: Brazil always ended up as the champion when playing at home. And this was our chance to make history again, and bring back home a title that the national team had not won since 2007.
While warming up for the competition, we lost Neymar to an injury in a game against Qatar. I still remember that my joy at having scored a goal contrasted sharply with the pain he felt at being cut from the team. We were all very sad, but I believe that made us even more united as a team. We thrashed Honduras, and I put one more ball in the net, and so Copa America started.
And we had a very good start: We beat Bolivia at Morumbi - 3- nil. I took part in both our goals. In the next game against Venezuela, I didn't play very well and Tite substituted me at half-time. Éverton Cebolinha, who had also played well in the previous game, substituted me - and I ended up losing my position there. In the match against Peru, our team smashed them, but I watched it from the bench.
Before the game against Paraguay, in the quarter-finals, I felt there was something wrong with my neck. I went to see the doctors and told them about it. From then on, the story only gets worse. After some exams, we found out that I had mumps.
At that time, I was told that the estimated time for recovery is usually about 15 days. I freaked out because Copa America would be over after a bit more than a week. I was in isolation, I couldn't see anyone. I would go look at myself in the mirror to see if my neck was better every single day. While the guys went to Belo Horizonte for the game against Argentina, I was isolated in the hotel in Porto Alegre.
Everyone thought I wouldn't be returning to the tournament, but I hadn't given up yet. In five days, I was feeling a lot better and travelled to Minas Gerais. I was ready for the semifinal, against Argentina, and we all know how it is when we beat them. I didn't play, but every goal Brazil scored felt like it was mine.
Little did I know that I was about to live the most sublime moment in football to date. The final was against Peru,at Maracanã, where I had so many good moments with Fluminense. We started well but ended the first half with a score of 2-1. In the second half, things got a little complicated and it's very bad to see everything from the bench. I wanted to come in and help my teammates.
In the warm-up, I told Miranda that I would go in and score the title goal. Then Professor Tite called me. While he was giving me a few instructions, Gabriel Jesus was expelled and I thought Tite was not going to let me in anymore, but he did.
I went in, tried to hold the ball a little longer in the attack until Cebolinha earned a penalty. I held the ball and asked Dani Alves, who was the main shooter, to let me kick. He said okay, and supported me. He told me to shoot like like I was doing in our training and so I did.
Those milliseconds until the ball hit the net were the most special of my career. Maracanã was on fire, our title was confirmed. I celebrated by taking off my shirt and throwing it out in honour of Adriano Imperador, who did it in the final against Argentina in 2004. We won the title. And I beat the mumps.
Note: Sorry, Grandma Julita. I will never forget your name again!
After having this dream come true, I went to the Galvão Bueno program and, a few days later, I also received the Commenda José de Anchieta Fontana, from the Legislative Assembly of Espírito Santo, which is the greatest honour an athlete who was born in our state can receive. In the ceremony, I was given a few minutes to speak up and I took this opportunity to ask the deputies, and also the governor, to invest in education and health, especially for children.
The charity game we had organised in my city would take place the following week. I was once again thrilled to be able to be with my people, collect donations and be of help. Before the game, I received a tribute from the Federal Institute of Education, for having helped some students to take part in the Mathematics Olympiad in Taiwan. Those guys are geniuses, I really admire them. So, whenever I can, I want to help.
I had a few days off after that and made sure I was ready for the season that was about to start. My teammates started the pre-season a bit before me. I had a few more days off as I had played for the national team.
At that point, I was very comfortable at Everton. My first year had been a very good one, I was getting along with my teammates and I really wanted to have an even better season this time. And I started well: in the first half of the championship, I scored eight goals. I had a streak of three goals in three games, against Liverpool, Chelsea and Leicester. Despite this, our results were not that good and, once again, the pressure fell on the coach. Marco Silva left and, once again, I resented not being able to help him.
Duncan Ferguson took over as a temporary coach. He was already part of our coaching staff and knew the players very well. I played good games with him in charge. He's a guy who played in the same position as me and helped me a lot. I felt appreciated by him.
Soon after, Everton announced that they had hired one of the greatest coaches in history. A guy who had already coached players like Ronaldo, Kaka and several other stars. He debuted here on "Boxing Day" and we won the last two games of the season.
As for the national team, we played six more friendly matches after Copa America, but we did not repeat the same performance. I hope next year I can be better, both in my club and in the National Team, since we have the qualifiers and another Copa America ahead of us.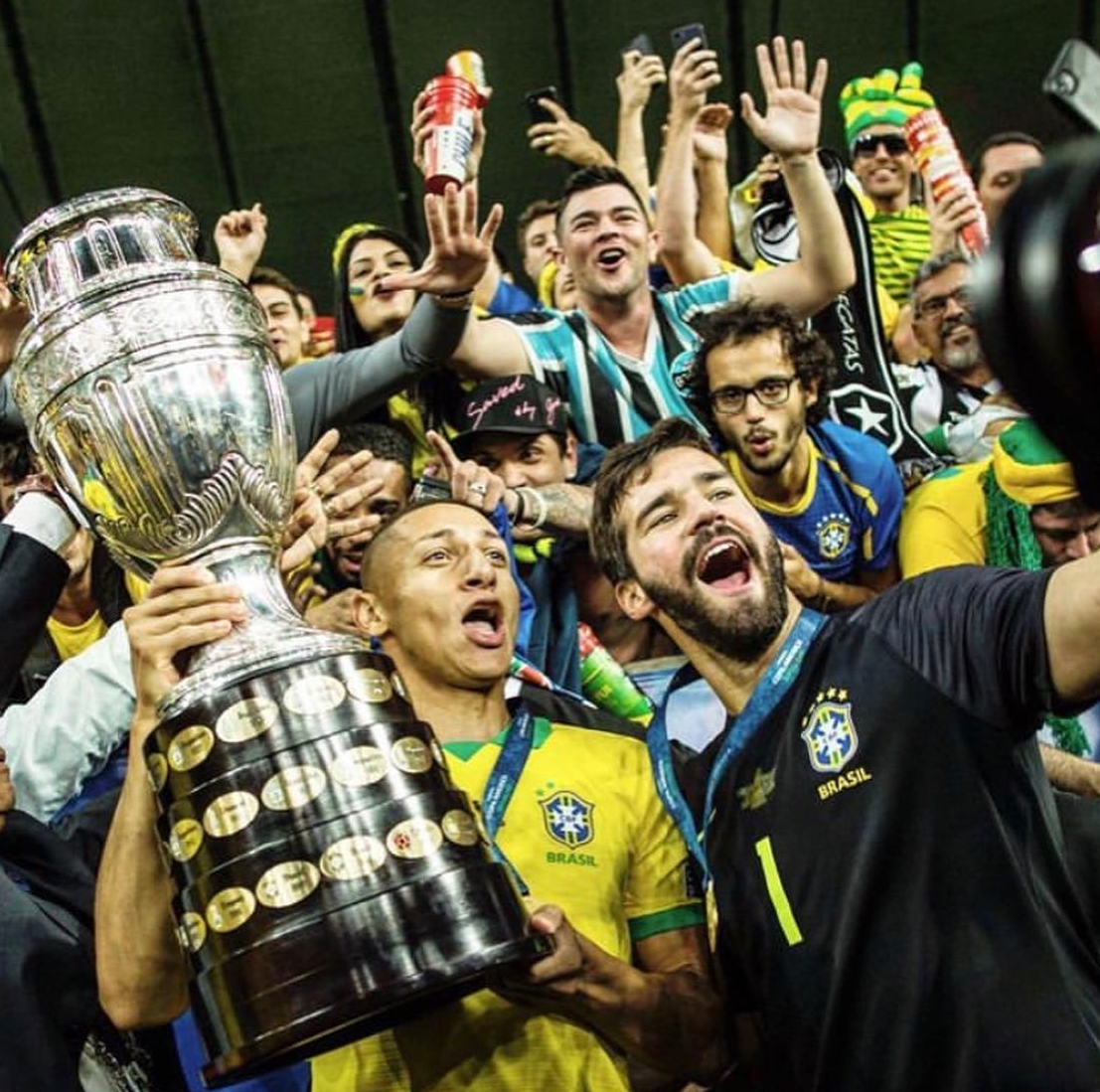 Next